Image credit (above): Whyte Museum of the Canadian Rockies
Edelweiss Village / GD460: Transmedia
How does one begin to define transmedia or describe a transmedia project? Semantically, the definition can be found within its combination of words: a merging of media forms. The term transmedia, more accurately, transmedia storytelling was introduced by Henry Jenkins, an American media scholar describing the technique of telling a story or building a story experience across multiple platforms and formats using new technologies. Put otherwise, it defines a narrative technique based on the creation of narrative worlds which are developed and found within a larger media ecology and which integrate diverse experiences many of them interactive. Think of augmented reality within a physical space experienced on your mobile device. Unlike other techniques such as intersemiotic translation, transmedia is different in that it seeks to locate and inhabit multiple media spaces to expand and immerse a viewer into adjacent forms of storytelling or narrative approaches supplanting a past singular expression or experience. As many of us have already experienced, these narrative worlds are visible and are part of our current reality becoming more significant for the storyteller and consumer.
The rapid popularity of transmedia projects can be understood through a revitalized interest in the importance of storytelling, in combination with the availability or democratization of new technologies for its development, as well as a cultural desire for new experiences derived from converging media. Through UFV's GD460 Transmedia course in Graphic and Digital Design, I worked with designer, Camille Candia (grad, 2021) to develop a transmedia exploratory research and innovation project for an architecture preservation campaign for the Edelweiss Village "Swiss Chalets" located on the traditional unceded territory of the Ktunaxa and Secwepemc peoples (Golden, British Columbia).
The project investigated multiple narrative approaches to build interactive stories combining various media such as print, digital, and film. Candia was encouraged to explore and understand the role of traditional forms and methods of archiving and how new technologies could create new synergies to further extend the purpose of the archive and its contents while maintaining a sensitivity to who and how it may serve which became the basis for how she documented the site's material forms and historical timelines. The project includes diverse voices from local community members to its international counterparts. It can be accessed online through an interactive digital archive that includes archival images and a short documentary entitled Forgoing, which beautifully captures the architectural vernacular, local history, community feelings, and future thoughts on Edelweiss Village. As Candia communicated to me, "It is important to bring awareness to the current state of these historic homes because of the unknown they rest on. These buildings are historical for both Canada and Switzerland. The means of this project is not only to bring awareness of their uncertainty but acts as a form of digital preservation in the event they are removed."
This project was developed for GD460 by Camille Candia and supervised with Assistant Professor, Trevor Embury, University of the Fraser Valley in collaboration with Dr. Johann Roduit, Conexkt, Dr. Ilona Shulman Spaar, Swiss Historian, Brittany Newman, Director, Golden Museum, Colla Films, and OSA-Canada.
Images below are screenshots of Candia's interactive digital archive website found at
https://forgoing.cargo.site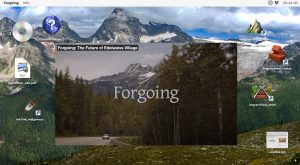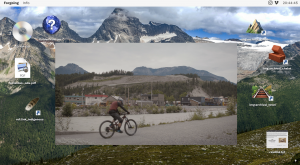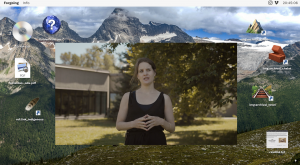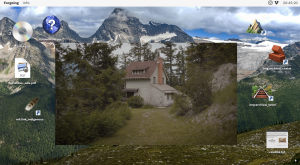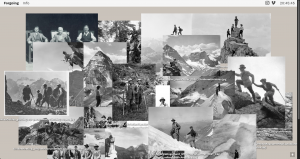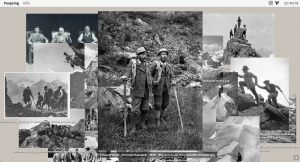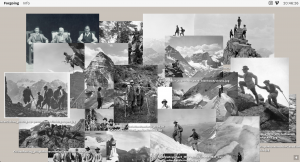 Forgoing: The Future of Edelweiss Village
https://vimeo.com/606242458/60cbd04f89?embedded=true&source=video_title&owner=21652673
Swiss Edelweiss Village Foundation
https://www.swissvillage.ca
Forgoing
https://forgoing.cargo.site
Take a virtual tour through the Swiss Edelweiss Village
Head of Art and Art History at the University of Calgary, Denis Jacques Gadbois formally release his virtual tour for the digital preservation of the historic Swiss Edelweiss Village in the town of Golden.
Gadbois and Dr. Peter Dawson, PhD, Head of the Anthropology and Archaeology, are the main digital preservation creators with the essential collaboration of Ilona Shulman Spaar, Johann Roduit, local museum, the Swiss and Canadian representative and the current owner of the land.
Gadbois has created this virtual tour with a focus of creating a sense of place, the goal being to create a high-quality virtual tour that is immersive. The virtual tour will also contribute to help raise money to buy the chalet for future generations.
https://art.ucalgary.ca/virtualtour/swiss/goldenswissvillage.html