Niusha Naderi
GDD Diploma
Meet Niusha, though most people call her Nush! Her love for design is evident in everything she does, as she enjoys appreciating the finer details, colours, and art. With a degree in interior design, Niusha has expanded her skills to the digital world and now works as a graphic designer. Her passion for work drives her to improve continuously, and she is always eager to learn new skills. Niusha's interests lie in traditional and digital art, particularly typography, layout design, and packaging. She also enjoys photography, using her snapshots as inspiration to create new works and further hone her craft.
Deans List 2021-2022 / CityStudio People's Choice Award Winners Winter 2023
Amesha
Packaging (Combination of a passion project and Print-Production)
This project combined a passion project in my portfolio class and a print-production course. Amesha is the name of a perfume that is disclosed in a box. The name and the packaging was inspired by the ancient and monotheistic religions named Zoroastrianism. In Zoroastrianism, the element of fire represents divine light and wisdom, and they use it in their worship to connect with their deity. The packaging design comprises two distinct boxes: bottom section that houses the bottle and a sliding lid that sits atop it. The concept centers around showcasing a seamless gradient effect, visible through the fire-shaped hole located on the lid. To achieve the desired impact, the edges of this shape have been burnt to reflect the brand's essence and establish a connection between the scent and packaging. "Amesha" refers to six divine beings holding significant importance in Zoroastrian theology and worship.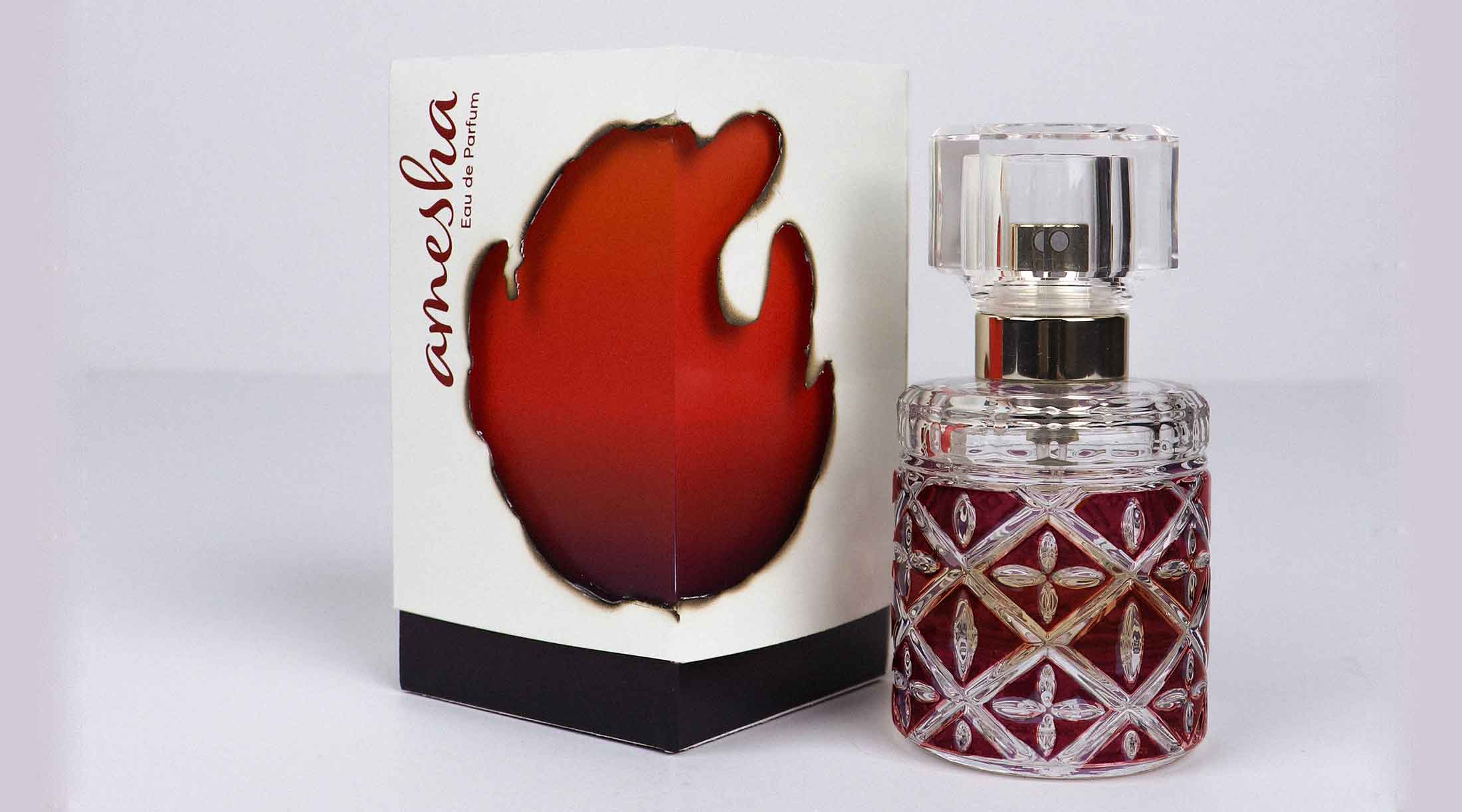 Burning Sage
Brand Identity
It was given to take an existing festival, rebrand it and bring it to Abbotsford. The festival that I chose to rebrand was a Holistic Health Fair called Burning Sage. The purpose of Burning Sage is to commemorate integrative medicine, a lifestyle concept centred around promoting physical and mental well-being. This approach encompasses non-medical methods of healing and therapy, such as energy and aromatherapy, to make holistic wellness accessible to all. The festival also features workshops on meditation and yoga, plant-based medicinal healing, cleansing and astrology, tea leaf readings, and creative endeavours such as painting or pottery. The name Burning Sage represents the sacred ritual of cleansing and purifying with smoke, a practice used by Indigenous cultures for centuries to bring harmony and balance to the body and spirit. The mark represents the sage leaf and the organic and flowy movement of the smoke resulting from smudging. This directs to the emotion that the festival will create for its attendees. A gradient in the mark symbolizes the rise of smoke created by smudging that rises from the sage leaves. Green is the colour of the Sage and symbolizes peace and growth, healing and health, balance and harmony. Grey, on the other hand, is a sign of maturity and wisdom.