Eleni Denguessi
GDD Diploma
Eleni is a driven graphic designer focusing on organizing content and developing solutions. She communicates effectively, explores other perspectives, and creates positive change. Her design interests are branding, UI/UX, and editorial design. With over a decade of experience working in a professional setting in the non-profit sector and the food industry, she brings a wealth of knowledge. Her passion is marketing; one of her greatest assets is her attention to detail.
Dean's List 2020-2023
Amoria Recreation Centre
App Design
Amoria Recreation Centre offers swimming and skating lessons. It needs an app for its visitors to easily register rather than visiting a content-rich website that needs clarification or waiting on the phone to speak to a staff member. The recreation centre app saves time and money for members, as well as the business, by offering a clear path on the app where they can save their card information, add family members to their profile, register the members through the application, and have the information stored in their calendar. With unnecessary information removed, users can quickly navigate the app to see their limited options for registering and completing the process in less than 5 minutes. This app allows users to register directly from their phone in any environment that suits them, and they do not even need to bring their wallets to the centre.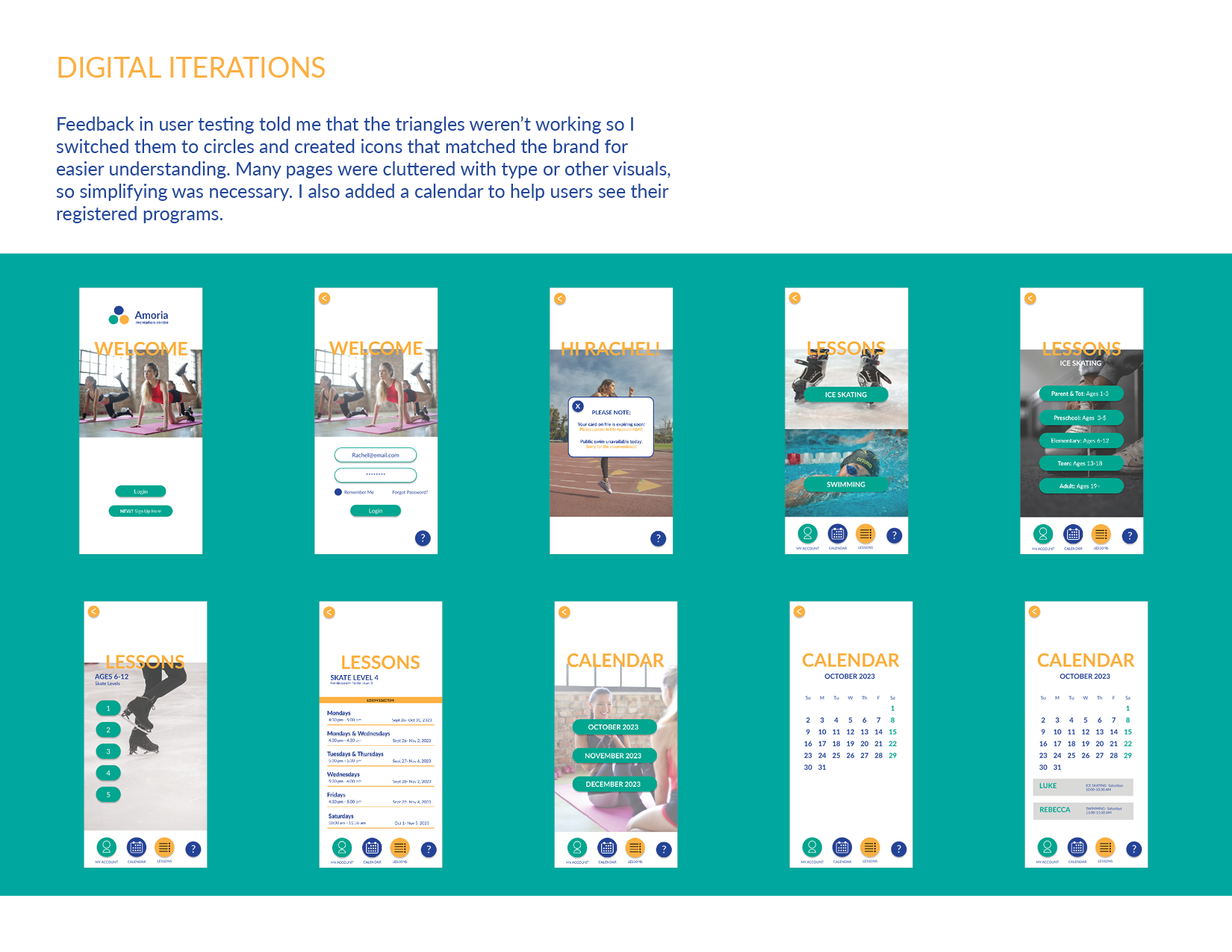 Futura Type Zine
Layout Design
Futura is one of the most popular typefaces used today, but many need to learn the history of this typeface or its uses. This type zine aims to grab the attention of designers interested in the typeface but want to learn more about it. The zine covers information about Paul Renner, the typeface designer, and his intent for the typeface. It showcases different ways the typeface can be used through writing or as creative visual elements to capture readers and give them a better understanding of its history and how it can be used in design today. The typeface is portrayed through its anatomy and geometric properties while featuring its classic abilities and futuristic intent.